WE MAKE EVERY EFFORT TO SUPPORT YOU IN YOUR PROFESSIONAL PROJECT
A mentor : your mentor will be responsible for your progression. He/she will support you in building your career pathway and in developing your skills. You will build your training plan with him/her, shape your project and identify your areas for improvement.
A "Google like" personal project : during your integration, and supported by your mentor, we will ask you to formalize your project. You will identify your priorities for the year to come: themes to document, networks to activate, studies to carry out, activities to develop, etc. During an interview with 3 partners, you will agree on the means to achieve your priorities, and you will validate your roadmap. This roadmap will be the subject of intermediate reviews (at least every quarter) and of an annual review which will be integrated in your final evaluation.
An interaction network :  at HTS Consulting, you will have the opportunity to confront your ideas and your experiences with your peers and with recognized experts. We regularly organize "open lunches" to interact with experts on trending topics and informal drinks meant to share feedbacks about ongoing assignments.
A career advance: at HTS you will have the opportunity to address issues that are related to innovation, marketing and sales performance, as well as new market trends in several sectors. Later on, you will be able to specialize in a specific issue or in a particular sector. If you wish to, you will have the opportunity to take part in the international development of our firm.
An "à la carte" training:  the multiplicity of talents and individual paths has convinced us that only individual training paths could help us to make you advance. In addition to offering you targeted training on your areas of improvement, you will also be encouraged to express training wishes as part of your project. Every year, we study the opportunity to send some consultants to one of the best rated international campuses.
THE ROLES INSIDE THE FIRM
Business analyst (1 year).

Consultant (less than 2 years of experience in consulting).

Senior Consultant (between 2 and 4 years of experience in consulting).

Manager (between 4 and 7 ans).

Principal (more than 7 years).

Associate Partner

Partner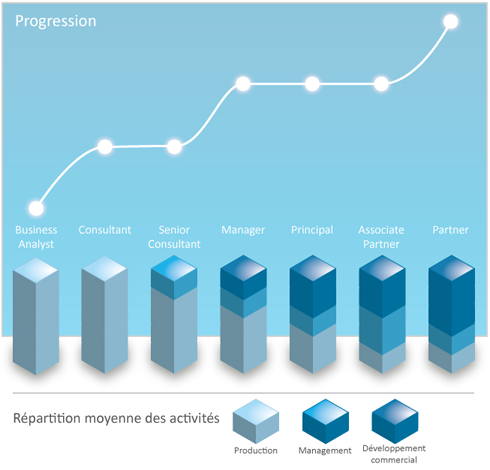 By joining HTS Consulting, you will enter a network that will support you during and after your stay at HTS Consulting.
The experience you will have gained within our teams will allow you to join executive or operational management teams of major international groups.
HTS CONSULTING IS YOUR PARTNER ALL OVER THE WORLD
HTS Consulting – Paris
150bis avenue Charles de Gaulle
92200 Neuilly sur Seine, France
contact@hts-consulting.com
Whenever we set up in a place, we select our premises according to 3 criteria we believe to be essential to the development of our firm:
Well-being at work for our employees: light, space, …
Reducing the environmental impact of HTS Consulting: proximity to public transport and soft transportation modes
Life quality of our employees: proximity to shops, sports infrastructure, …
The premises of HTS Consulting France are located at 90 avenue Charles de Gaulle, Neuilly sur Seine.
Being aware of the current changing ways of life and of the necessity to reduce our carbon footprint, we have been developing remote working options since our creation.
CONTACT US
contact@hts-consulting.com
HTS Consulting 
150 bis Avenue Charles de Gaulle
92200 Neuilly-sur-Seine